Hi Peeps!
It's Julie here again. I have a new card that I made for a baby shower that I want to share with you today. Have you ever sat down to make a card, and you look through your sets and realize that you might not have the images you think you need to make your project? Well, that happened to me this week. I found great paper to use, and knew I would try a new version of the
Flight Plan Mission 002
, but looking through the Paper Wings stamp sets, I didn't see anything that jumped out to me and felt "baby". Then, I took a second look! I found lots of items that I could mix and match to create the theme I needed. I love it when a plan comes together :)
This sample includes the frame from the
Details Framer
set, letters from the
Whimsical Pattern Alphabet
set, and the "oh so cute bird" from
Birds of a Feather
. Look at how it all came together!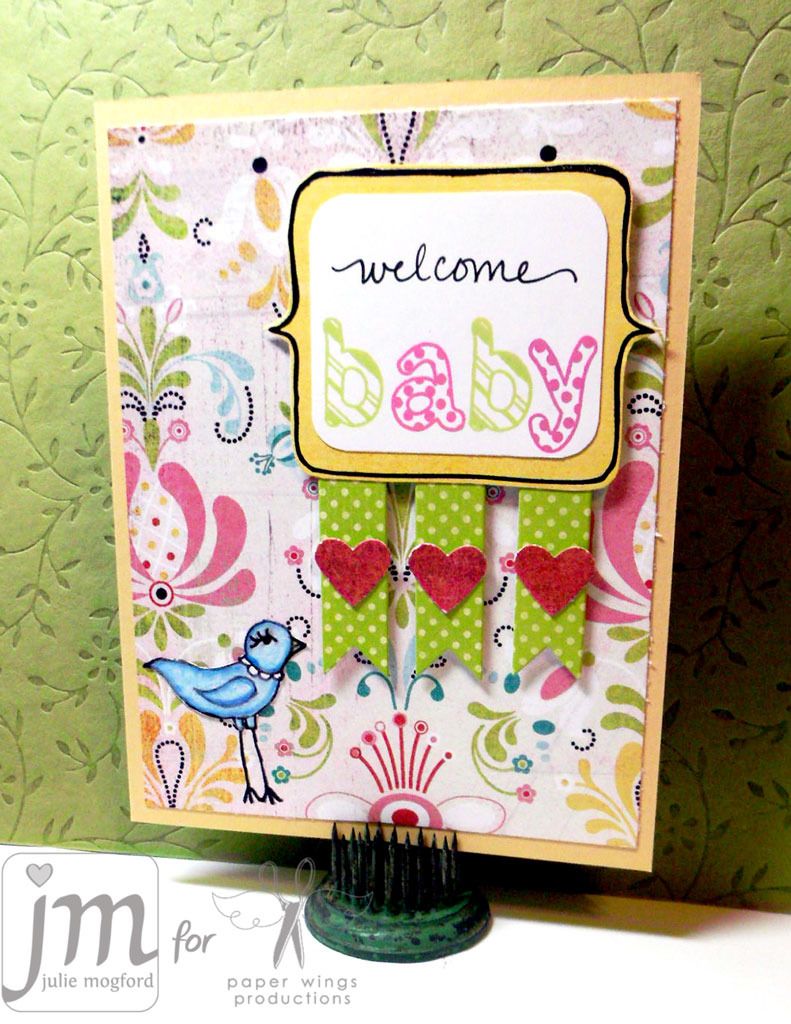 I used chalk ink with the alphabet stamps for a color coordinated look. I stamped the framer on a yellow paper and then trimmed it out and added the sentiment on top and rounded the corners for a custom fit. I wrote "welcome" to add a little more to the sentiment. I knew I wanted the bird in the bottom left hand corner, but she would never show up on the patterned paper, and I didn't want her on a separate element. So - I stamped her on the background so the legs would be in place, then I stamped her on white cardstock, colored her with prisma pencils and then cut and adhered her to the card.
This was a fun card to make, and would be great for any Mom to Be. This card could easily be changed for a baby boy, even using the same stamps, and simply changing the colors. You could even use a star punch instead of the heart. If you would like to get more details about this card, check out this
post
on my blog.
I hope you enjoyed this card and maybe it will inspire you to get crafty! And...If you haven't joined in on the
Flight Plan Mission 002
, we hope that you do. We want to see all of the awesome things you are making with Paper Wings sets. Maybe this Memorial Day weekend will provide some extra crafting time for you. I know that's what I'm looking forward to!
Happy Stamping!
Julie