Hello there peeps!
It's
Shay
here today. First, did you see our cool new contest:
pin it to win it
? You could be one of three to win! And if you need some inspiration on which stamps to pin, did you see Norma's ornament
HERE
or Julie's canvas
HERE
? Keep on checking back all month for more amazing holiday projects from Norma and Julie!
I know that the holidays are almost upon us. Perhaps you need a little help with getting some pretty cards out pronto? With a single stamp, ink, patterned paper, a punch and a little bling you can mass produce several cards and have them ready to mail or give out in no time.
I chose solid block type images: the snowflake block from
Holiday Greetings
cling stamp set or
Snowy
cling stamp set; the holly block from
Holiday Greetings
cling stamp set or
Holiday Greenery
cling stamp set; and wise men block from
Wise Men
cling stamp set to stamp in three colors which coordinated with the patterned paper I picked out.
For these cards I wanted to play with non-holiday patterned paper in non-traditional colors. We all have beautiful patterned paper that with a holiday stamp can be transformed for the holidays. I went with a white cardbase to make these cards even more streamlined and inexpensive.
I found with the snowflake and holly stamps I could cut a strip of 2" height from the patterned paper and still have plenty of the patterned showing. I adhered three blocks onto my strip of patterned paper and then adhered a strip of coordinating punched paper to the bottom. Next, I adhered the whole strip to the cardbase and cut off any overhang. Last I added some jewels to the blocks for that holiday sparkle (a slightly larger jewel was placed on the center block).
The Wise Men card is a bit different in that the stamp is taller than the snowflake and holly block stamps and has more negative space. Because of the differences, I cut a strip of 3" from patterned paper and also added a banner style sentiment strip cut from white cardstock to place over some of that negative space. The sentiment comes from
Holiday Greetings
or
Holiday Script
--excellent stamp sets for this time of year!
Snowflake card (bonus: could be used for any winter holiday):
Holly card: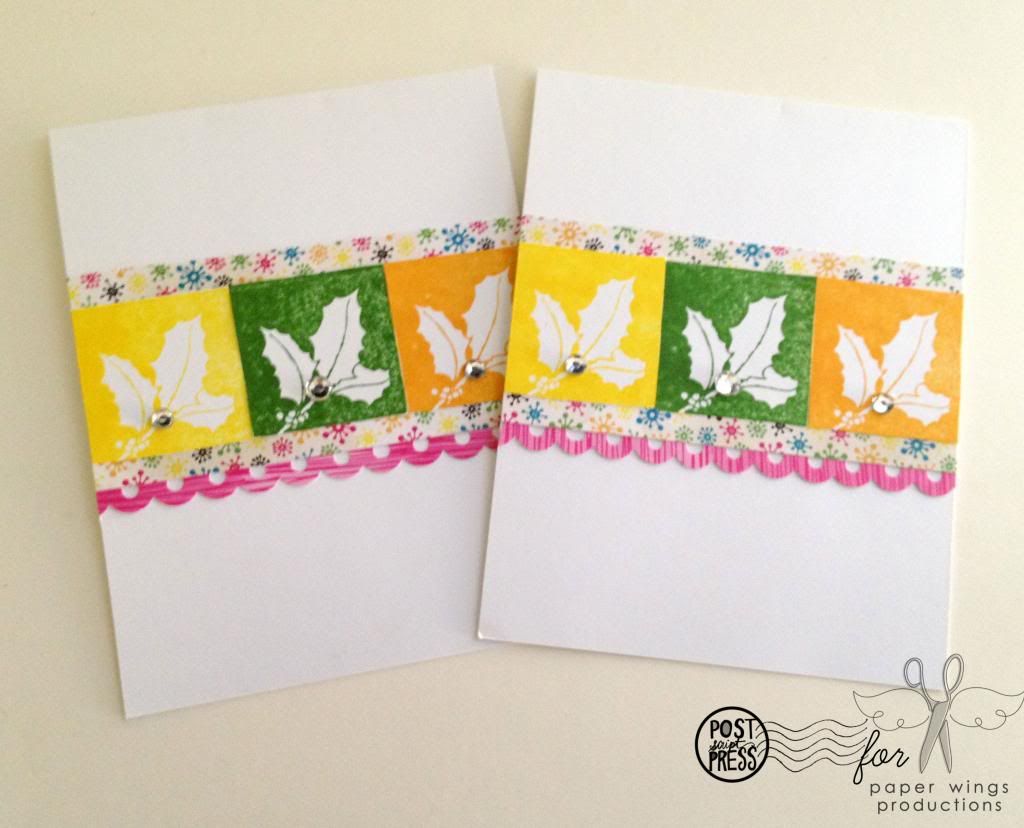 Wise Men card:
Without a doubt you could stamp the cardbase for more color and interest, but this design is so easy and quick that you could crank out a ton of cards without much trouble and then add your own touches and embellishments as you desire. Buttons, sequins, sprays/mists, pearls and brads are just a few things you could use. If you love to sew, sew your layers with matching thread or be even more bold by using metallic thread! You can also add a sentiment of your choice or put the sentiment inside. Merely change up the colors and patterned paper each time for a unique card each and every time!
I hope you ink up some Paper Wings Productions stamps and create your holiday cards!
We would love to see what you make with Paper Wings Productions stamps.
Add your projects to our
flickr group
, to
Pinterest
, comment with a link on this post or even email pictures to us!
Supplies:
Snowflake card
Ink: Jenni Bowlin for Ranger in lemon drops, stick candy and chewing gum
Cardstock: Georgia-Pacific in white
Patterned Paper: Neapolitan 6x6 paper pad from Dear Lizzy by American Crafts
Other: border punch by EK Success; clear jewels
Holly card
Stamps:
Holiday Greetings
or
Holiday Greenery
Ink: Jenni Bowlin for Ranger in lemon drops, seed packet and chicken feed
Cardstock: Georgia-Pacific in white
Patterned Paper: Sketchpad 6x6 paper pad from Amy Tangerine by American Crafts
Other: border punch by EK Success; clear jewels
Wise Men card
Ink: Jenni Bowlin for Ranger in seed packet, chicken feed and cough syrup; Tim Holtz Distress Ink by Ranger in broken china
Cardstock: Georgia-Pacific in white
Patterned Paper: Memoir 6x6 paper pad by Studio Calico
Other: border punch by EK Success; clear jewels