Hey peeps!
I've been on Pinterest a lot lately and I'm SO addicted to looking at pins and searching for ideas. Are you? [have you
pinned
your favorite PaperWings stamps yet?] I have been seeing so many great ideas for Christmas cards, and I thought I would try a few ideas using our new and previously released stamps, but I gave myself a challenge.....ONE LAYER CARDS! I have to say, it was definitely a challenge at first, but when I started thinking about a few card layouts I had seen, plus some techniques I know (but sometimes forget to use), then putting these cards together was easy!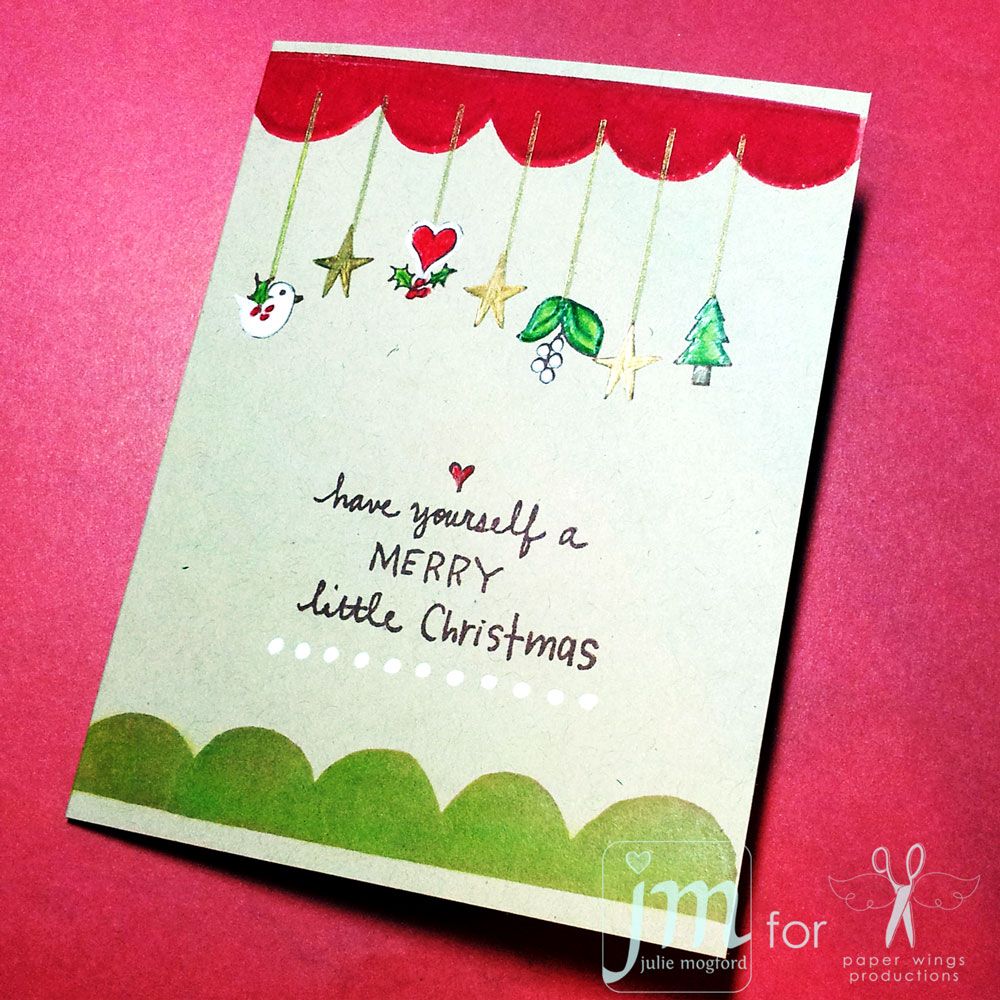 Krafty Christmas
- This idea came from to me when I remembered how much I like colored pencil on kraft paper. I used to do these types of cards with Ms. Liz Allen all the time. This card reminds me of her! First I started with the
Scallop Border
to set my color scheme. When I started this I made some ink choices that let me down. I was able to restamp these clear stamp images using chalk inks and line them up perfectly! The green one was not as bright as I wanted, so I went in with a green prisma pencil to bring it up to the perfect shade I wanted to use. Next I stamped the hanger from the
Hanging Stars
set using gold pigment ink. Then I added the cute elements stamped in Memories Artprint Brown, from the
Christmas Mix it Up
and
Holiday Tags
sets. I colored all of the images with prisma pencils and the stars were using a gold prisma pencil - it is a really nice metallic! Finally, I added the sentiment from the
Little Christmas
set and added the white dot border from the
Louise
set, inking only the dots I needed. I could have drawn the dots, but I like using the border so they are lined up and evenly spaced. It takes the guess work out of the equation. Cute, right??? I thought so!
Christmas Collage
- I came across a collage card that had a red Christmas sentiment in the middle of a collage card with green music in the background. I started thinking, how could I recreate this look with our stamps? Here is my rendition! Images from
Music Cling
,
Flourish Fun 2
,
Holiday Greetings
/
Holiday Greenery
,
Jolly Old St. Nick
/
St. Nick Cling
and
the
Merry
clear sentiment. I accented some of the images with prisma pencil, and the sentiment is stamped in Versamark with Festive Berries ink before embossing in red embossing powder. The Christmas is added with Chestnut Roan chalk ink. This came out better than I thought. I am intimidated by collages like this sometimes, but I think it turned out well. What do you think???

Winter Peace
- This one is inspired by a few things. The new cold weather that we are finally getting down here in Texas, and all of the cute cards I've been seeing that are masked off, stamped and embossed in white and then inked with rich colors. First, I used some low tack masking paper to mark off the sky scene. Using Stampin' Up! Whisper White craft ink and embossing powder, my trees from the
Pines
set and snowflakes from the
Winter Mix It Up
set come to life in the blue twilight sky. I used Tumbled Glass, Broken China, Stormy Sky and a little bit of Faded Jeans. After all of the inking, I wiped the embossed images off to remove any remaining ink and then removed the masking paper. The handwritten "peace on earth" sentiment from the
Little Christmas
set is stamped in Faded Jeans and I think it is the perfect way to finish off this card. I'm pleased at the effect and will be trying this again with other Christmas stamps - it's really fun when you see the images pop off the card!
So that's my take on One Layer Cards. I hope you give these techniques a try. Even though Christmas is going to be here in a blink of an eye, these cards could be put together really quick for a last minute gift, or mass produced in a jiffy!
Hope you have a wonderful holiday season!
Peace
Julie