Happy release day peeps!
Today not only do you see the samples in all their detail, but the new stamps are available for purchase at our
website
!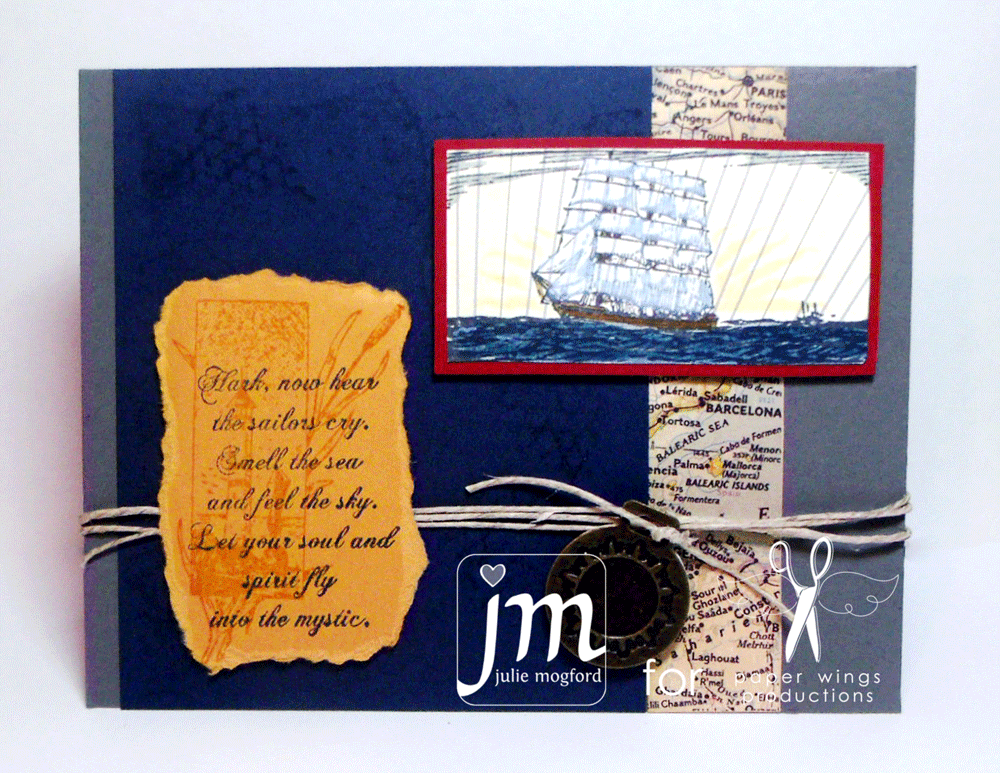 Julie: "Love this majestic boat, and other sea elements from Sea Melange! I wanted to use the sun from Earth and Sky, so I masked the boat and stamped the sun in a very light yellow. I colored the waves, sky and boat with Distress Markers and I love how the white marker worked out on the sails. On the navy background, some of the other sea characters are resting on netting from the Art Textures set. It is very subtle to the background but gives it some interest. The sentiment and lighthouse are also on this beautiful Sea Melange set and I like the effect of the sentiment stamped over the watermarked lighthouse on the gold paper. The whole card makes me think of Persuasion, by Jane Austen. What do you think? Hmmm, that might give me an idea for a future project."
Stamps: Sea Melange, Earth and Sky, Art Textures
Ink: Archival Ink, Distress Ink and Distress Markers by Tim Holtz / Ranger
Cardstock: Stampin' Up!
Patterned Paper: Protractor and Departure by Studio Calico
Other: twine, metal embellishment (from stash)
Julie: "I knew this flower would be great, but who knew it would make awesome patterns? It makes me think of wall paper in an old home. Tie that in with the phonograph and a little music background, plus a lovely sentiment, and you have an awesome card for a dear friend. Can you tell I'm still hung up on the last PWP color combo??? This card makes me so happy!"
Stamps: Phonograph, Flower Power, Kind Words, and Background Melange
Ink: Distress Ink and Distress Markers by Tim Holtz / Ranger
Cardstock: Stampin' Up!, Coated Paper
Other: Sassafrass flower sticker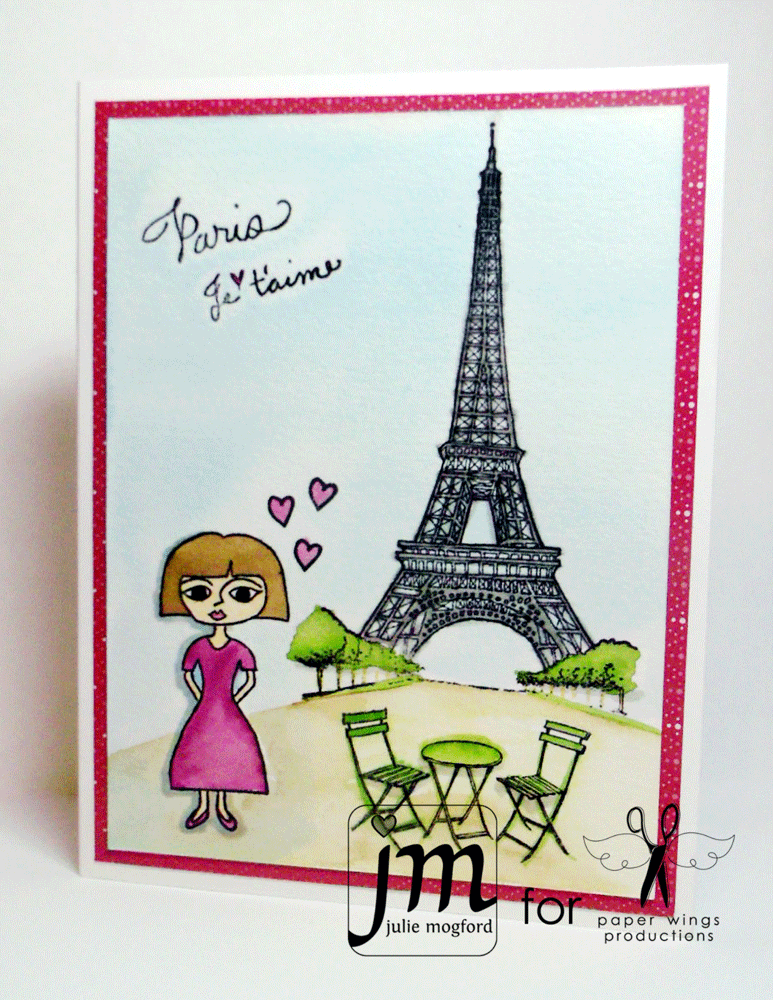 Julie: "Ahhhhhh, Paris! It would be so great to go back again! This card was such fun to make and I had some good results using both Aquamarkers and Copics. You just gotta love the Eiffel Tower, the sweet cafe seating, and the darling Miss Louise! She is so great, and the little heart comes with her, and many more cute embellishments too! Although I made this into a card, it would make a cute framed picture for a girls room, or in an art space! Hmmm, where did I put that frame.....?"
Stamps: Paris and Louise
Ink: Archival Ink by Ranger
Cardstock: Neenah Solar White, Water Color Paper
Patterned Paper: Stampin' Up! (image matte)
Other: Aquamarkers by Letraset and Copic markers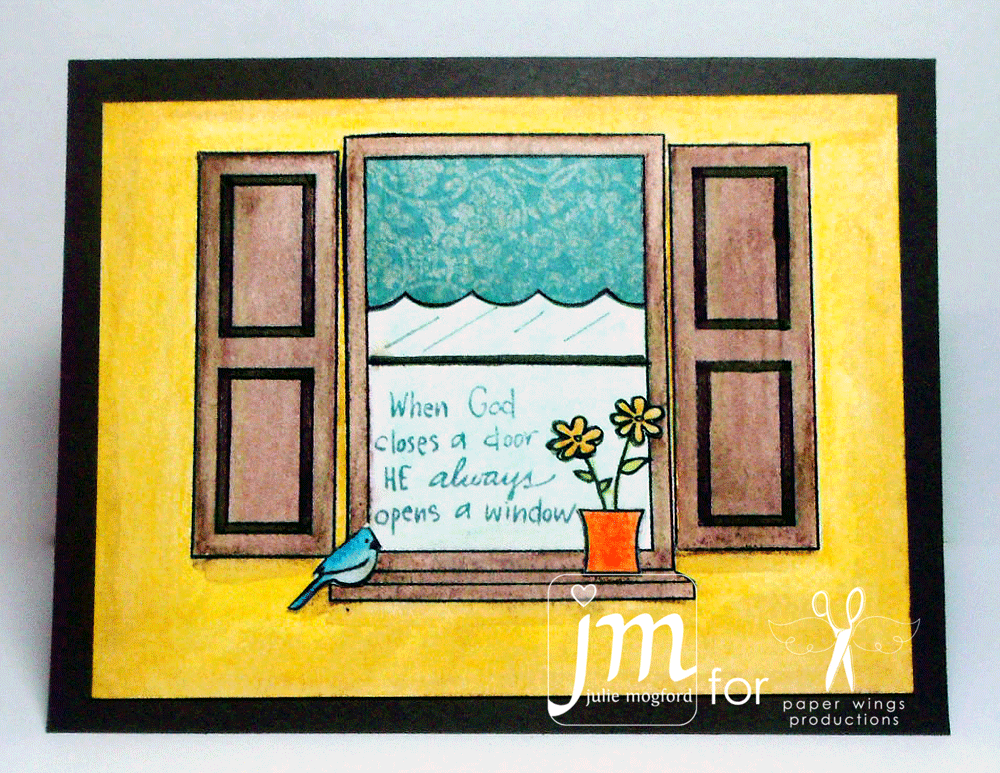 Julie: "This Window set has so many fun pieces that you will have a great time just trying them in various configurations. On this version, I tried the window landscape style on a 5.5 inch x 4.25 inch card, but I know that it will also fit portrait style too! Not shown here are other extras like a window flower box, pie, bird house and a cat! And, can I say, I really love this cute little bird?! I have a feeling he will be finding his way on many of my future projects."
Stamps: Window and Scriptures
Ink: Archival and Distress Markers from Ranger
Cardstock: Stampin' Up! and Watercolor Paper
Patterned Paper: stash
Other: Caran d'Ache watercolor crayons
This beautiful book is from a monthly project at Stamp Antonio that Carrie taught. The book is created from a recycled book that was gutted and then new pages were added. The bird and saying is from
Bird Melange
and it's little crown from
Royal Melange
each designed by Carrie. The snatches of writing found in
Writing Backgrounds
, some of which comes from Carrie's own family, is stamped along the spine of the book.
Stamps: Bird Melange, Royal Melange, Writing Backgrounds
Ink: Versafine Black
Other: Sticky Back Canvas, Book Pages, Snow Cap Dabber, metal corners, Tim Holtz Tissue Tape, ribbon.
Liz Allen (designing under Fine & Fancy) made this lovely piece of Texas art using her own stamp based on her handwriting from
Texas Sayings
and star drawing from
Hanging Stars
. A flag made from stamping the ink pad directly on cardstock--brilliant! I think the torn inked edges are particularly lovely. And the Texas as a background--fantastic!
Stamps: Texas Sayings, Flourish Fun, Hanging Stars
Ink: Jenni Bowlin ink pads from Ranger
Cardstock: Straw and White Cardstock
Other: Caran d'Ache watercolor crayons
This tag was a collaborative effort between Erin Edelmann and Dana Edelmann, I was luck enough to see it done this past Sunday at Stamp Antonio. Erin (who also designed the bird stamp featured as Rag & Bone Studios) created the striped background using distress inks and the Lines Border stamp set. Dana added the postcard stamp from Writing Backgrounds and then finished it off with the bird image from Bird Lyrics.
Stamps: Lines Border, Bird Lyrics, Writing Backgrounds
Ink: Versafine Black, Memento Brown, Tim Holtz Distress Inks
Other: Shipping Tag, Water mister, craft mat, white Distress Marker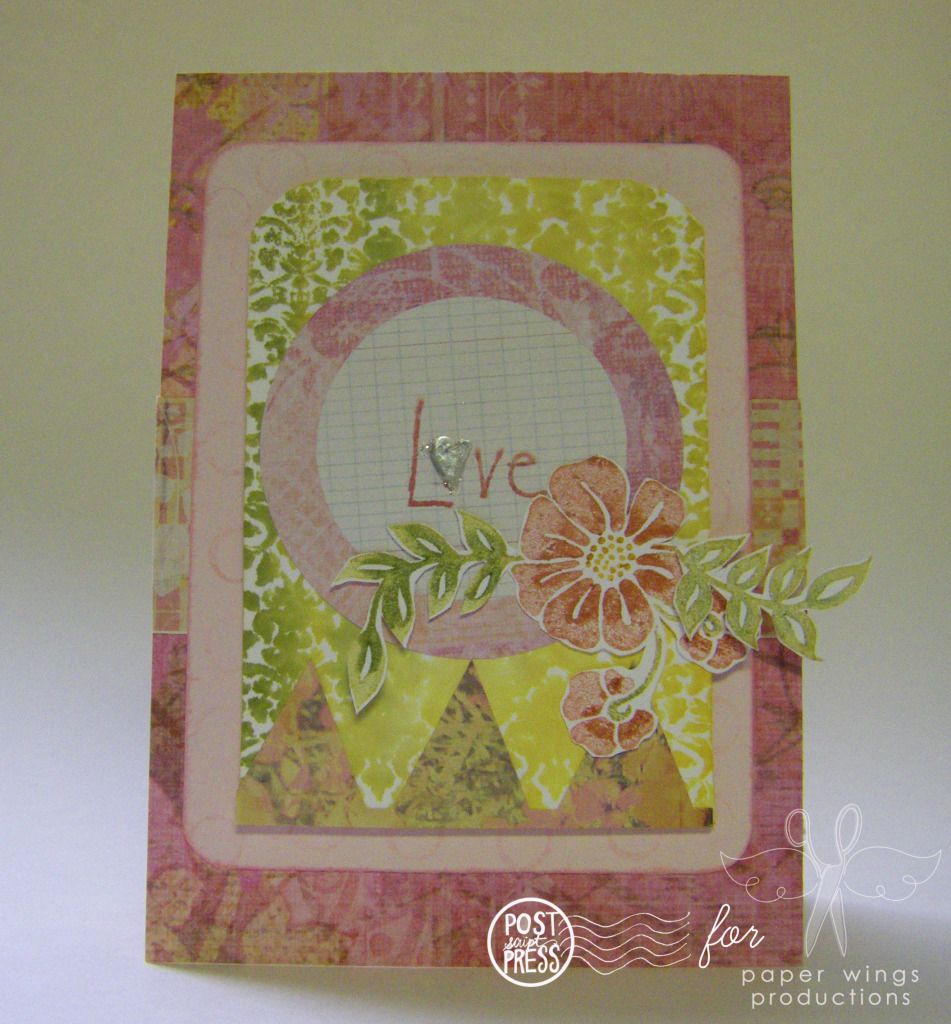 This little card turned out better than I had hoped. I used Distress Markers to color in the flower from handmade by Lizzie girl's Flower Power (beautiful set!) and I loved how that turned out. My favorite part is the damask background which I made with Distress Markers using the damask design in the Background stamp set designed by Rag & Bone Studios. I colored in the design and then spritzed it with water giving this really cool effect. The love word is super sweet, but I would expect no less from Miss Liz Allen of Fine & Fancy and the word is found in the Sayings & Sentiments set. The pink layer is actually subtly stamped using some of the open circles found in the fabulous Art Textures set by Julie Mogford.
Stamps: Art Textures, Backgrounds, Flower Power, Sayings & Sentiments
Ink: Jenni Bowlin by Ranger
Cardstock: Neenah Solar White, Stampin' Up! Pink Pirouette or Papertrey Ink Sweet Blush
Patterned Paper: Julianne Vintage Designer Mat Pad by K & Company
Other: Tim Holtz Distress Markers, water mister, Pearl Pen Cream by Viva Decor, border stickers by sassafras for Studio Calico, label from Julianne Vintage collection by K & Company, Corner Chomper (1/2" & 1/4 ") by We R Memory Keepers
I hope you enjoy some fun shopping this weekend!
Take flight,
Shay.