Hello there peeps!
Today we feature the delightful
Hanging Stars
set by Liz Allen of Fine & Fancy. Full of sparkle and charm just like Miss Lizzie herself, this set can be added to so many of your projects. This stamp set can be used to celebrate the special people in your lives, everyday moments or special occasions like 4th of July, birth of child, congratulations, birthdays, anniversaries, Halloween, the winter holidays or just as a pick me up for someone. Add the
Hanging Stars
to your tags, cards, gifts. ATCs or mixed media projects.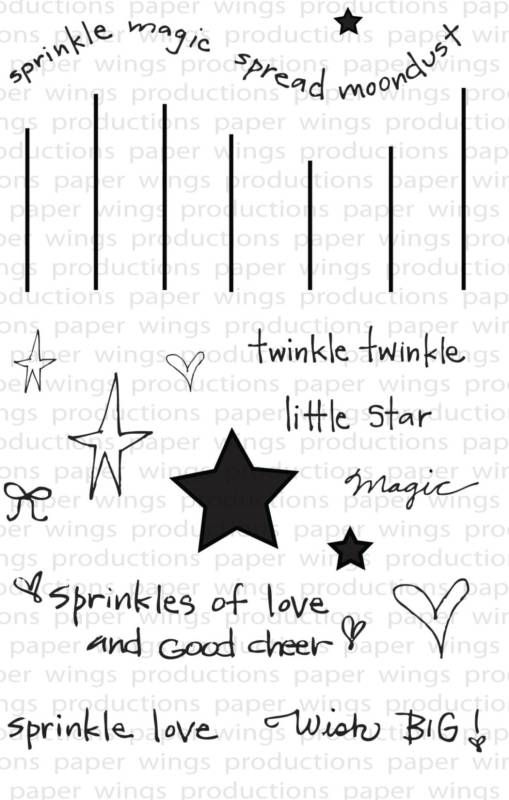 How about we see some tags by Liz and Julie?
The Stars Danced by Liz Allen
Details:
1. Use distress inks and ink blending tool to lightly cover the surface of tag with blue, green and purple inks.
2. Stamp flourish from Flourish Fun 1 on the top and near bottom of the tag. Hand draw lines from top Flourish at varying heights. Stamp or draw stars at the bottom of each line. Stamp or draw a bow on top of each star.
3. Write or stamp a sentiment.
4. Tear off bottom edge of tag. Ink all edges with ink blender tool and distress ink. Add Stickles to the bottom edge and to all the stars.
5. Tie on some tulle!
Supplies for The Stars Danced Tag
Stamps: Hanging Stars, Flourish Fun 1
Ink: Memento in tuxedo black, Tsukineko; Tim Holtz Distress Inks by Ranger
Paper: Tag
Tools: Ink Blending Tool (Ranger); black pen
Embellishments: Stickles by Ranger; tulle
Sprinkles of Love Tag by Liz Allen
Details:
1. Stamp flourish from Flourish Fun 2 on the top. Hand draw lines from top Flourish at varying heights. Stamp hearts at the bottom of each line. Color in hearts with colored pencils. Stamp a bow on top of each heart.
2. Stamp a sentiment. Color in areas of background with a white colored pencil.
3. Add Stickles to all the hearts and bows.
4. Draw circles around border or stamp a border.
Supplies for Sprinkle Love Tag
Stamps: Hanging Stars, Flourish Fun 2
Ink: black ink
Paper: kraft
Tools: colored pencils; black pen; Tim Holtz Distress Marker by Ranger in picket fence
Embellishments: Stickles by Ranger
Team USA tag by Julie Mogford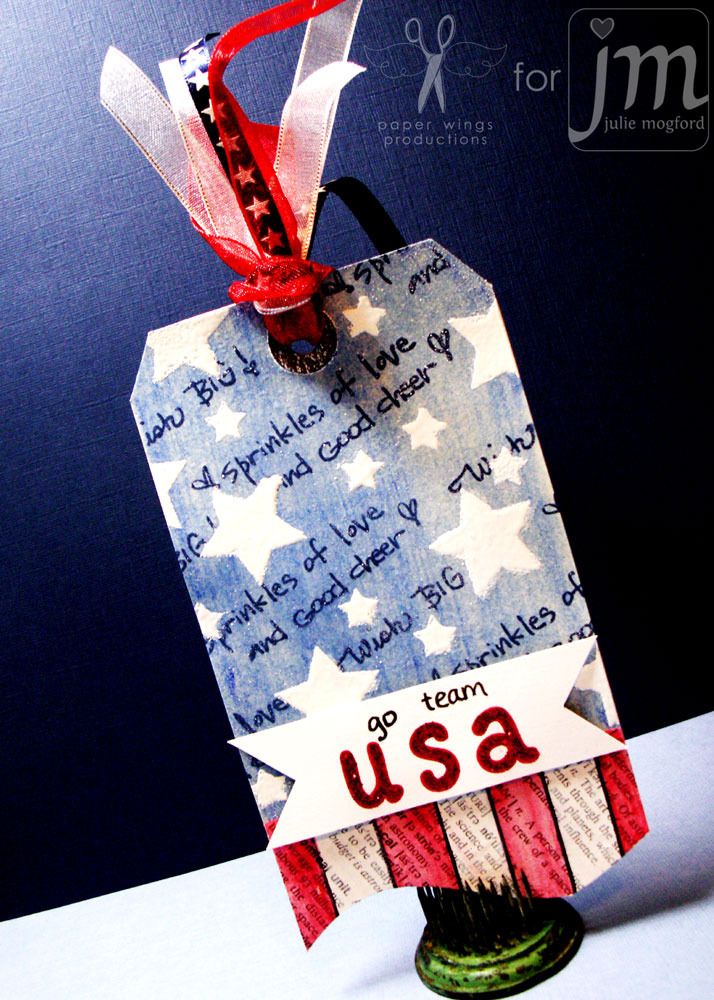 We're ready for the Olympics at my house and I thought a USA inspired tag would be fun. The Hanging Stars set had some great elements for me to use on this tag and I really like the curved bottom. Go USA!!!
Details:
1. Cover top two-thirds of tag with blue watercolor crayon, and then use paintbrush with water to blend out the color.
2. Stamp sentiments from Hanging Stars set diagonally in darker blue ink.
3. Stamps stars with white craft ink and emboss with white embossing powder.
4. Stamp staggered lines on text paper. Use red watercolor crayon as before to create red stripe. Adhere to tag and trim tag in same shape as staggered lines.
5. Spray shimmer mist on tag and blot dry. The water could react with background, and in this case, I didn't want it to.
6. Stamp USA letters from Whimsical Solid Alpha in red ink and write "go team" above. Cut banner slits and adhere to tag with foam tape. Use red stickles to accent USA.
Supplies for Team USA tag
Stamps:
Hanging Stars, Whimsical Solid Alphabet
Ink: Archival Black by Ranger, Color Box Chalk Ink in Warm Red and Blue Iris, Stampin' Up! Craft ink in Whisper White
Paper: dictionary paper, manila tag
Tools: heatgun, Faber Castell Pitt Artist Pen, Caran D'ache Watercolor Crayons, Stampin' Up dimensionals
Embellishments: Stampin' Up! Whisper White embossing powder, Radiant Rain Shimmer Mist in Pearl Gold by Luminarte, Glitz Stickles by Ranger in Ruby Slippers
Delight in the Lord tag by Julie Mogford
This tag was inspired by the designer herself, Miss Lizzie Allen. To me this looks like something she might make. I did of course have to do a little bit of stickles work. Although you might not be able to detect it from this photo, but stickles are just about everywhere here. The top scallop, sun, cloud, flowers, leaves and even the grass. The sentiment is from our
Scripture
set, which is also designed by Liz. I love this happy tag!
Details:
1. Using an ink blending tool, add colors to create a sky and grass background.
2. With same green ink, stamp staggered lines from Hanging Stars set at the bottom to create flower stems. Using the small folk star, stamp repeatedly at the bottom of tag to create a grass effect. Use the folk hearts to create leaves for flowers.
3. Stamp large hearts and flowers from the Louise set on the stems using black archival ink. Press ink pads on non-stick surface to pool ink and use a brush and water to color in areas for grass, leaves and flowers. Use white gel pen to accent flowers.
4. Cut cloud shape from text paper, adhere to tag and add white paint to dull text a bit. Draw and cut sun shape from yellow scrap paper. Add to tag with foam tape.
5. Stamp scallop border from Louise set at top of tag and add a flying bird from the Bird Panel set. Color inside scallops with white paint or white gel pen. Stamp sentiment from Scriptures set above flowers in black ink.
6. Use glitter to accent elements of tag.
Supplies for Delight in the Lord tag
Stamps:
Hanging Stars, Scriptures, Louise, Bird Panel
Ink: Archival Black by Ranger, Distress Ink (Ranger) in Vintage Photo, Wild Honey, Pickled Raspberry, Mowed Lawn, Salty Ocean
Paper: dictionary, scrap yellow
Tools: Ink Blending Tool (Ranger), Signo gel pen, paintbrush,
stampin up dimensionals
Embellishments: White craft paint and Stickles (Ranger) in Distress Rock Candy, Baby Blue, Firefly, Orange Peel, Yellow, and Fruit Punch
You can also see
Hanging Stars
being used
HERE
,
HERE
and
HERE
. I hope you are inspired to add some sparkle and love on your projects too!
Come and join us for another great pwp event, tomorrow at Scrapbook N' More in New Braunfels. We will have a trunk show, demos, and a FREE make & take project. It's from 11-4, hope to see you there!
Thank you for joining us today.
The Paper Wings Gals.